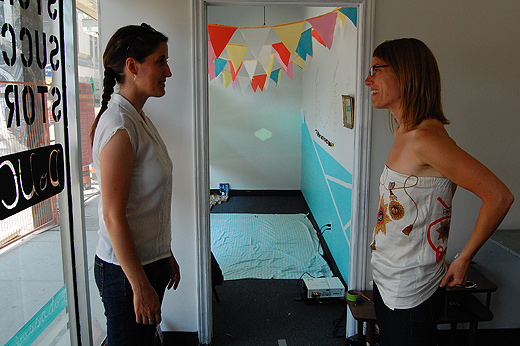 Another Friday night open house gave the SRSI participants a great opportunity to show projections and engage in discussions about their experiences and feelings about working in Windsor.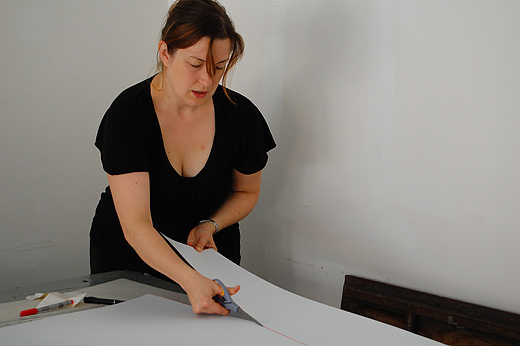 Denise St. Marie came down from Toronto to install her work Talk 2 Strangers.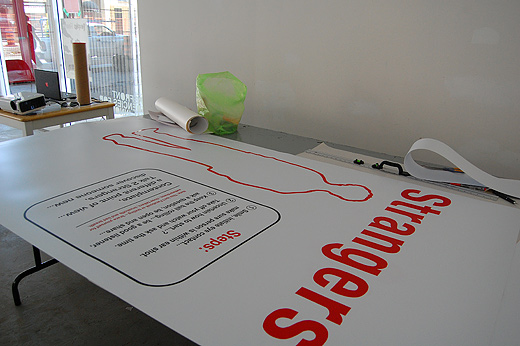 The piece is made from cut vinyl on easy to transport plastic sheeting perfect for the window.
The work is challenging the constant decline in face to face physical interaction and communication between humans due to technology. Our conversations are regularly filtered through networks and devices such as computers and cell phones.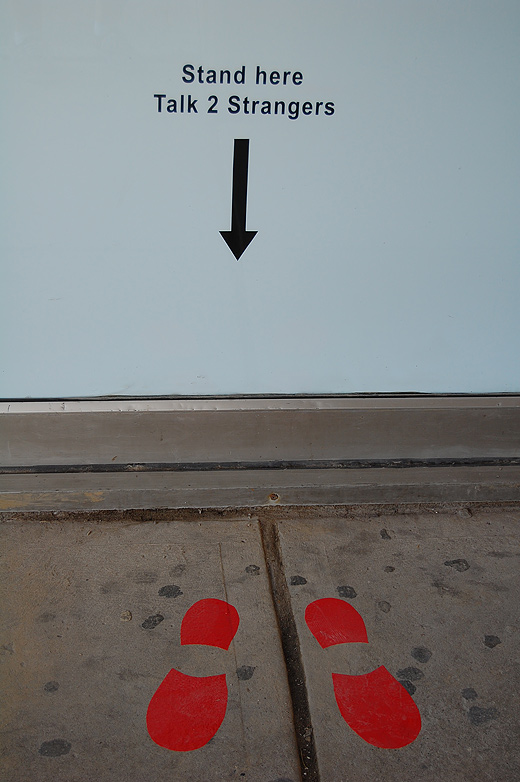 The work is engaging the pedestrians on Park, inviting them to stick around and talk to people.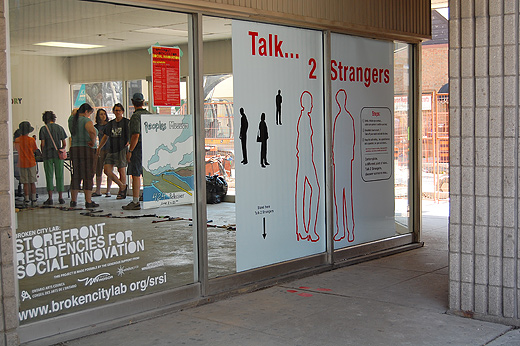 This works nicely with Norman Eberstein's performance as he patrols the perimeter nodding and waving to passersby. Their reactions as he makes eye contact with them is telling of the discomfort of public interaction.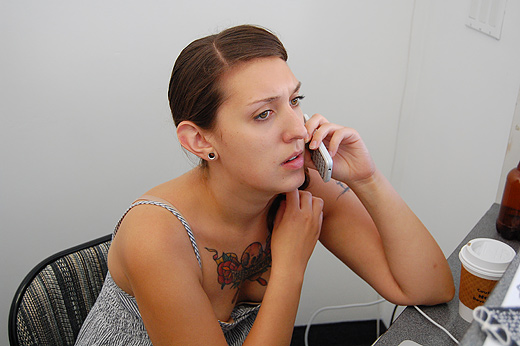 I spent a good part of the day catching up on some administrative stuff. I handed my camera over to Josh, who took some beautiful shots throughout the day.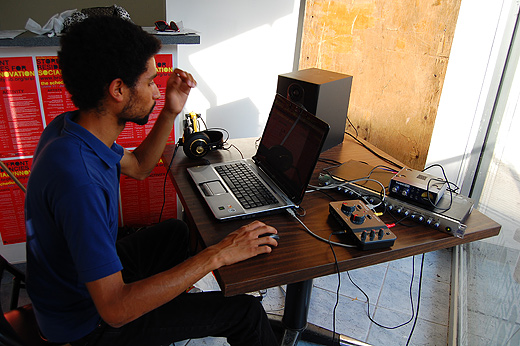 Stephen Surlin came in to record some audio produced by his window microphone and played around with some distortion using Max. The process of recording what the window is picking up creating soundscapes is particularly interesting due to the construction sounds.
Lea put up a map of Windsor up in her space using tape to separate and number each ward.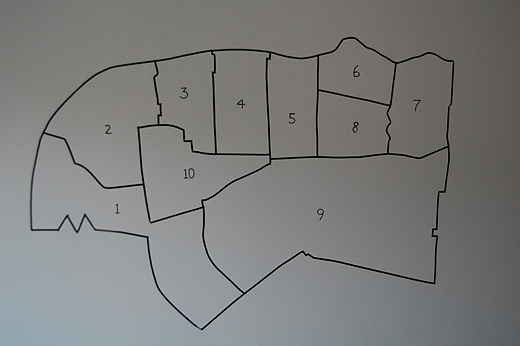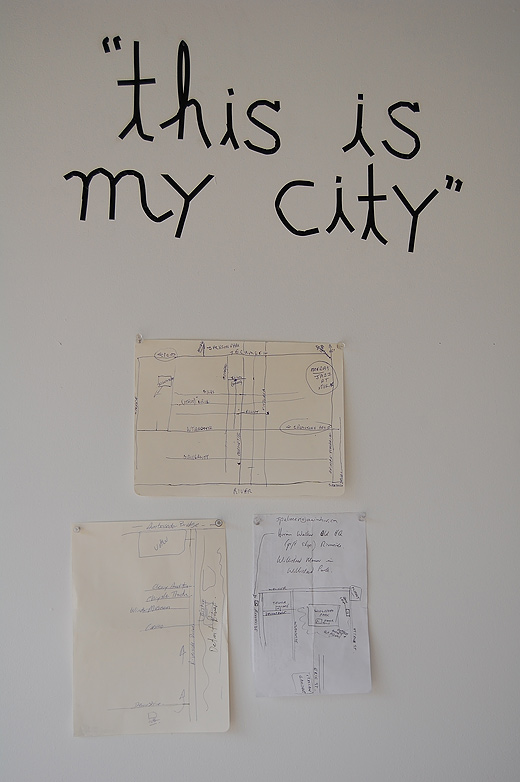 One area of her space has a collection of maps drawn for her by local residents. "This is my city" was a response from an old man when asked why he is living in Windsor.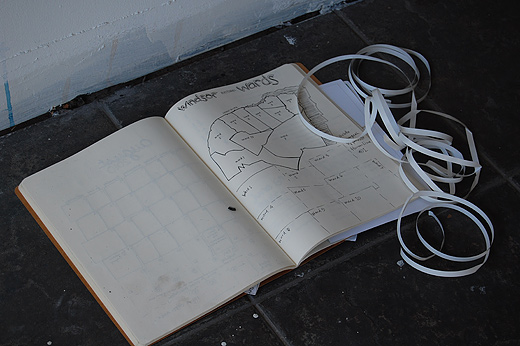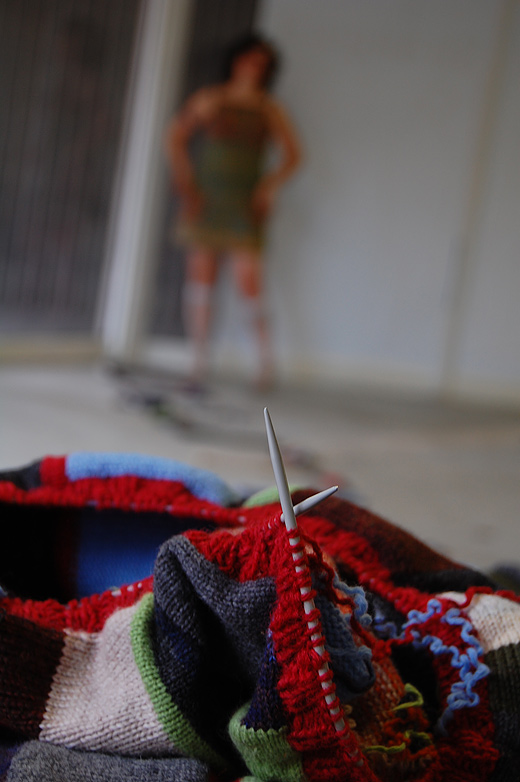 It was Jodi's last day working for The Sweater Factory. She was knitting using a 4mm circular knitting needle, U.S. size 6. The edging for the sweater vests was done by hand and will be complete by the end of SRSI on July 11.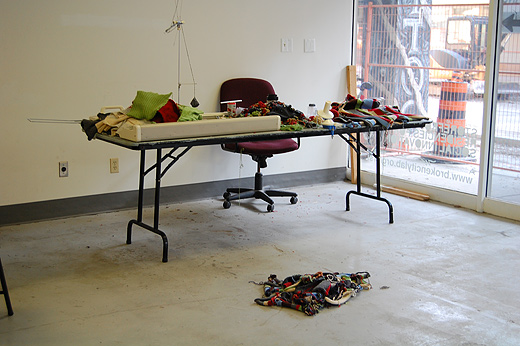 Jodi's process of reusing discarded items to make something new is something that should be considered greatly in the city of Windsor, where there is plenty of room for improving our recycling program. The idea of working systematically on the line also shows how Windsor's manufacturing history can be re-interpreted and re-designed for purposes other than making cars.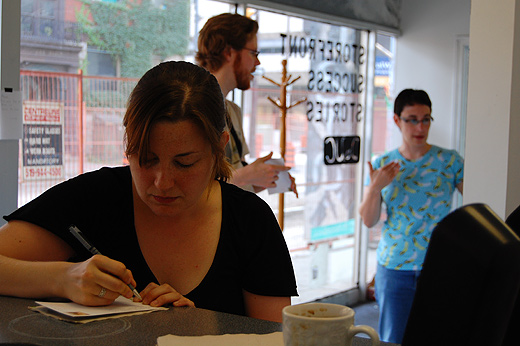 The extended hours gave all of the artists time to talk amongst each other and engage in each other's projects. Denise wrote a postcard to Indian road and claimed one of Jodi's sweater vests. The interaction between artists makes the whole project much more meaningful for the participants.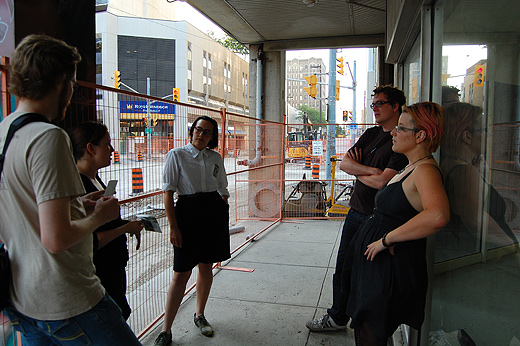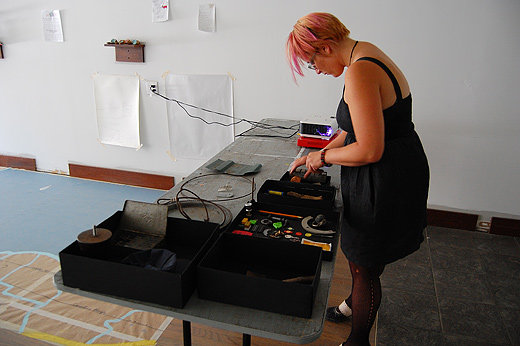 Terre Chartrand set up her contribution to the audio/visual installation she did with Garth Rennie, Zoey Heath and Phil Beaudoin in the back of 424. This space is ideal for projections as it doesn't receive much natural light.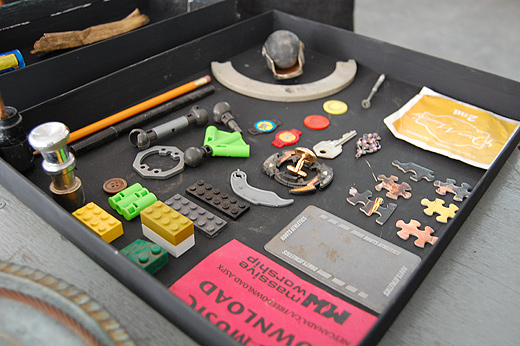 Terre has a table set up with artifacts found along the highway in each town between Windsor and Kitchener.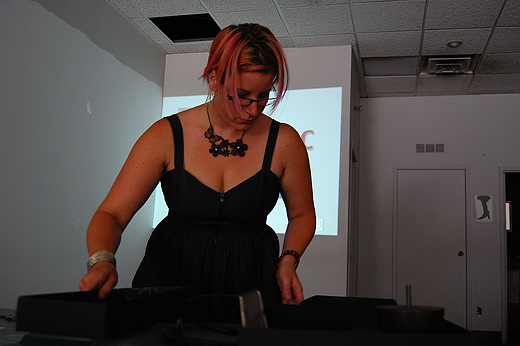 She also had a projection set up showing photos of interesting locations shot along the route.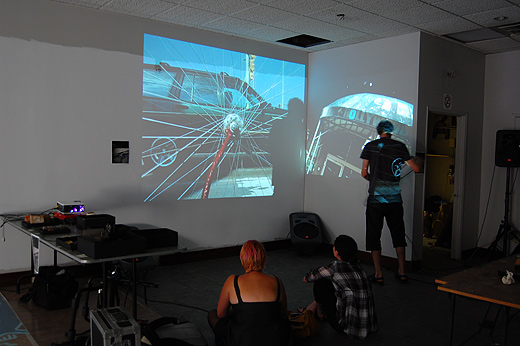 Later that evening, Garth Rennie set up his component to the installation, a Huron Church Road soundscape paired with beautifully hectic footage of bicycle spokes and the busy road.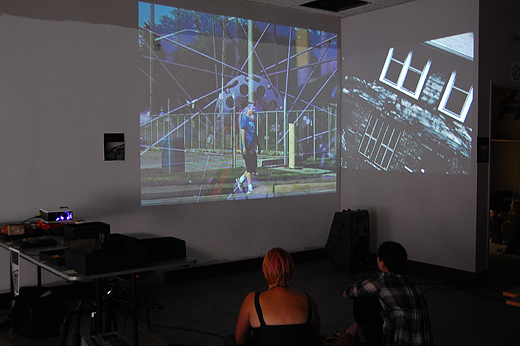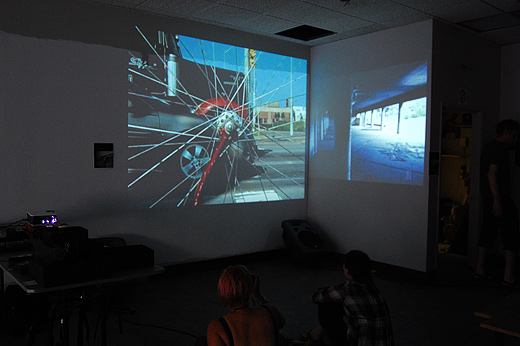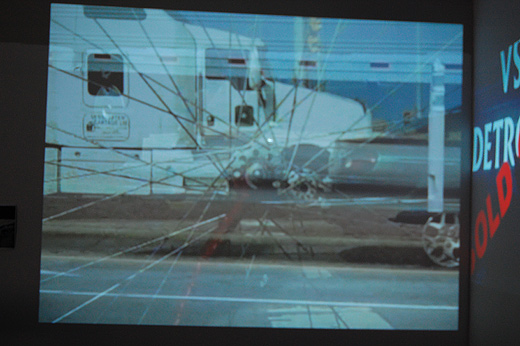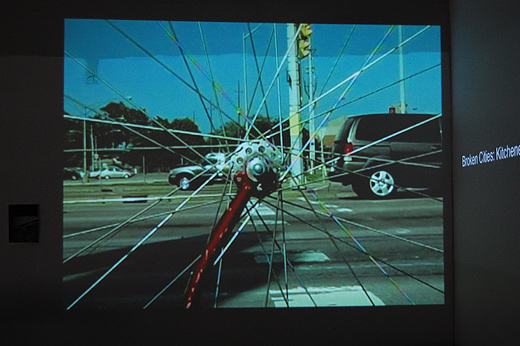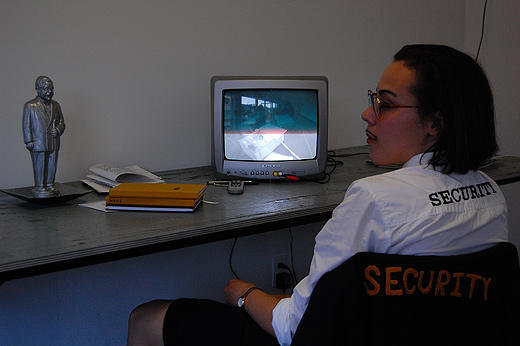 Norman showed up a little bit later than usual and set up his security camera facing The Department of Unusual Certainties' office space. He was expecting to have been given the responsibility of locking up that night, but he has not yet gained enough of my trust for that.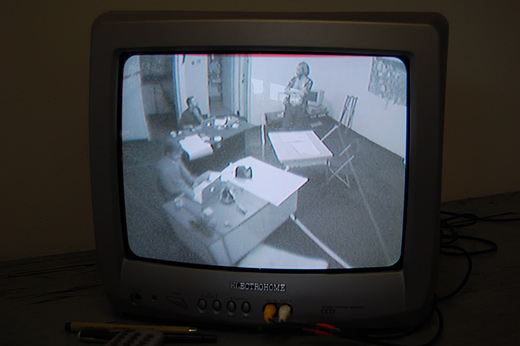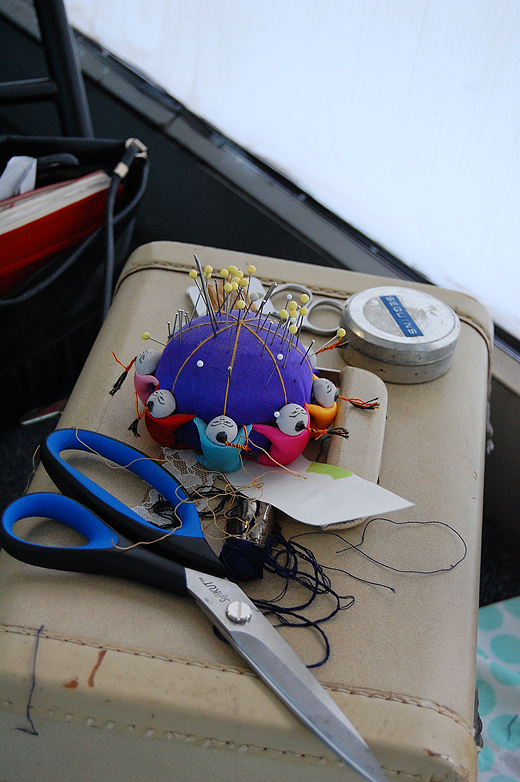 Thea did a small performance in her window display, repairing a pair of jeans that Chris had ripped on a night of discovery.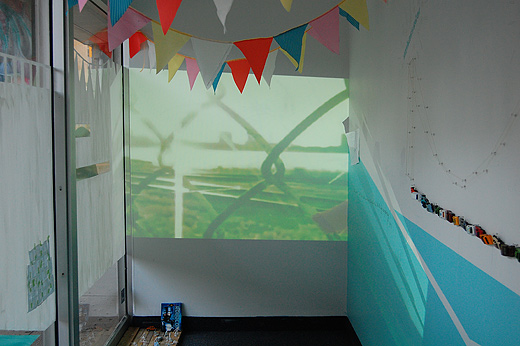 Her projection images were wonderful to photograph once the sun was out of the west-facing windows, providing the perfect lighting situation around 7pm.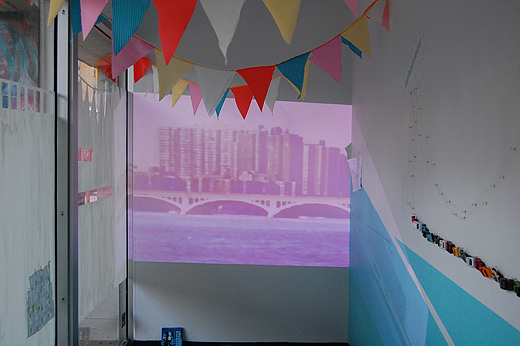 She got some gorgeous research footage the first few days of her time spent in Windsor.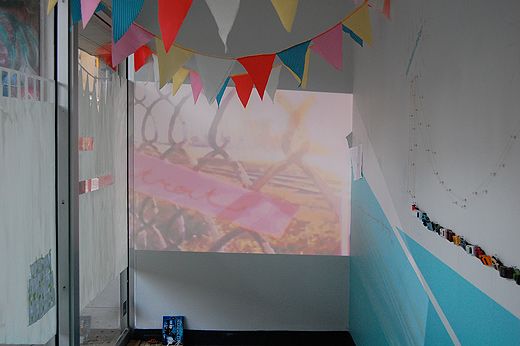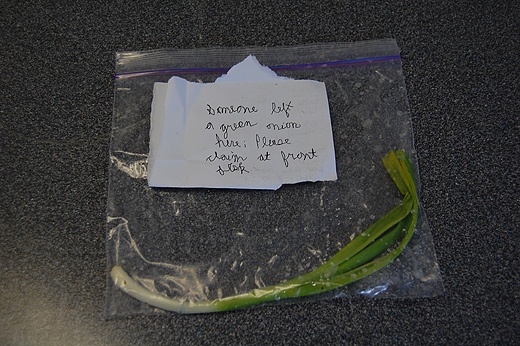 Mr. Ebertein found a bagged green onion on the premises and did an amazing job attempting to return it to it's rightful owner. When nobody claimed it, he left it at the front desk just in case someone came in asking for it. We decided collectively it would be necessary to have a lost and found in the future.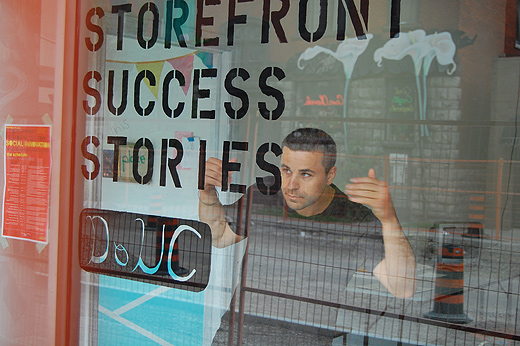 Simon and Chris are doing amazing things, way too amazing for me to even articulate, so be sure to follow their Storefront Success Stories blog.
This project is generously supported by the City of Windsor: Cultural Affairs Office, Arts Council Windsor & Region, Windsor Pride, and the Ontario Arts Council.