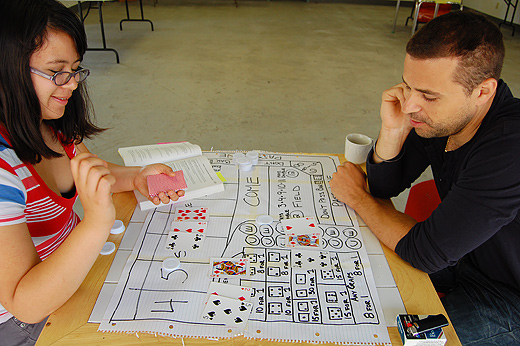 Josh Babcock starts working on his Invention Solution Hub, Robin Fitzsimons trains hard for her big trip to Caesar's Windsor, Kids' crafts are on display in 424 Pelissier, The Department of Unusual Certainties are holding consumer surveys, and Thom Provost talks to the community about his ideas.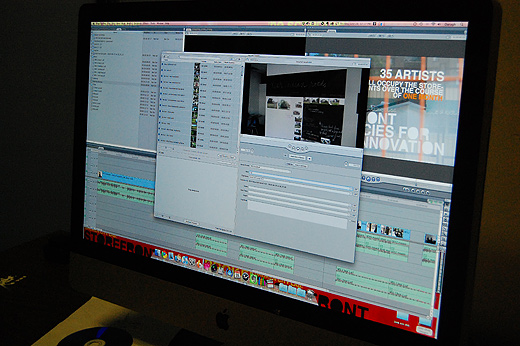 Daragh has been hard at work in his office, he has been shooting, logging and editing documentation of SRSI for the whole duration of the residency. There are a few teasers that will be available to view soon, one of which is the BCL cleanup of the spaces prior to the commencement of SRSI, the other is a small profile on Andrea Carvalho's study of Non-Places.
Josh Babcock, Broken City Lab Senior Research Fellow, began working on his Invention and Solution Hub inside of 406 Pelissier. Josh will be brainstorming and drawing inventions and also helping with solutions to problems. He will be spending a few hours a day working hard at a desk with paper and a pencil. This is Josh's game face.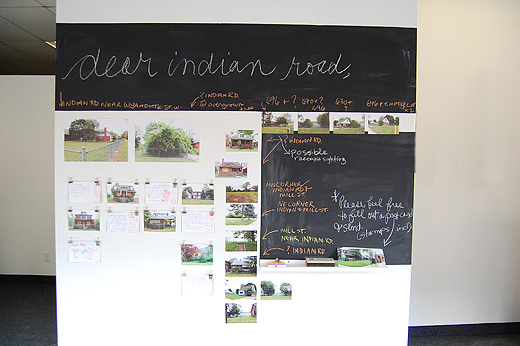 Leesa Bringas' Indian Road piece has been uninstalled. We are very sad to see the end of this wonderful thought provoking project. Good luck to Leesa on her moving travels within the next few days back and fourth to Sudbury. Windsor will miss you!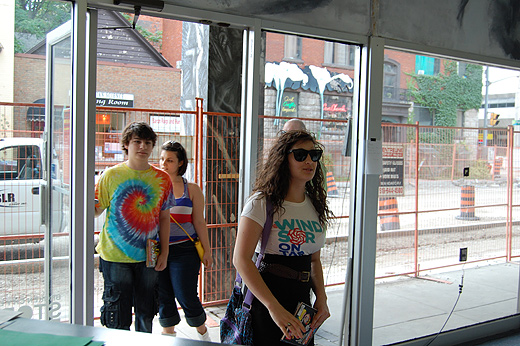 Rosina brought in some friends and relatives to the spaces and was gracious enough to give them a tour of the vicinities. Reppin' Shane Potvin's Windsor shirt hardcore.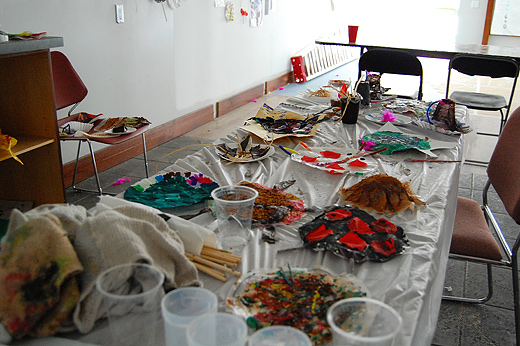 I snuck into 424 Pelissier to get some shots of the kids' crafts made the day before. The Imagination Lab had an amazing turnout the past few days and will run again on Sunday 1-4 and Monday 5-7.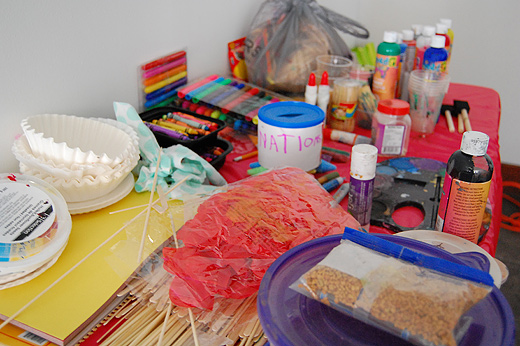 There is such an amazing array of supplies and the workshops are completely free!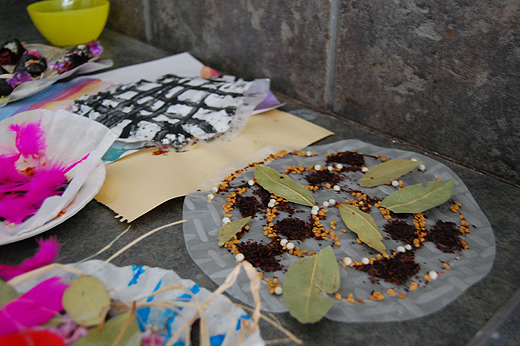 The kids made tons of imaginative creations which are now on display in the back of 424 Pelissier.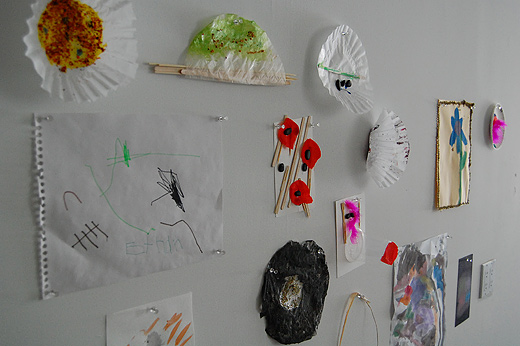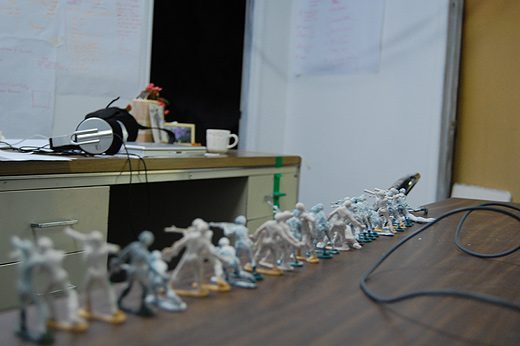 Thea Jones left these toy soldiers to be added to The Storefront Success Stories installation/workspace in the back of 410 Pelissier.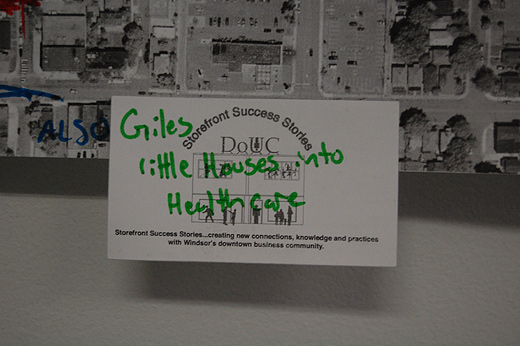 The Department of Unusual Certainties has placed little cards identifying and classifying various streets within the downtown BIA. On their map in the back of 410 Pelissier. This is just a small visual detail of the larger survey they have done.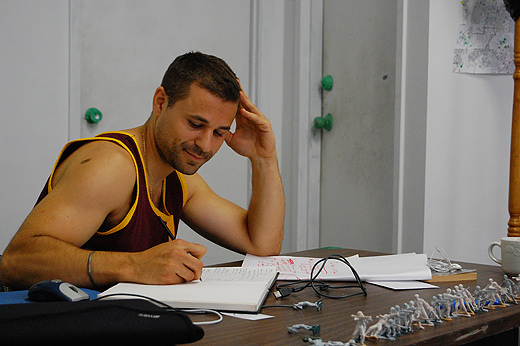 Chris and Simon have been doing consumer surveys to visitors, asking them why they come downtown, what they do down here,  etc.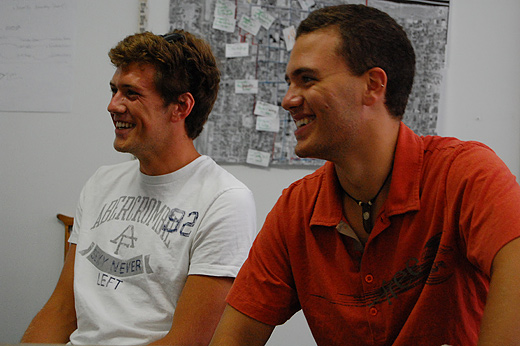 These two gentlemen stopped by the spaces after being coaxed in by my friendly wave. They had an awesome time checking out all the fun stuff going on in all three locations and also completed consumer surveys for Storefront Success Stories.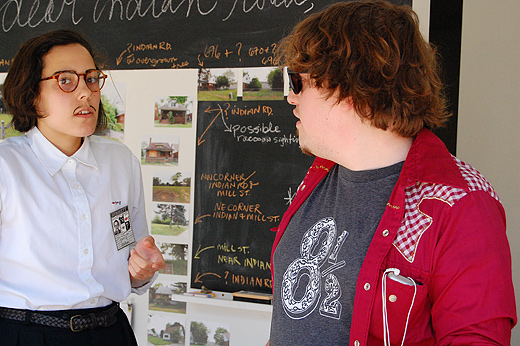 Norman's roommate Tim Swaddling came by to say hello. Norman tried to mooch $20 off of him before he left.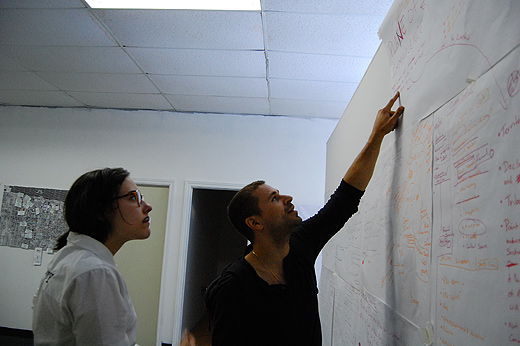 Chris gave Norman a little lesson on Territorial Machines. Norman was less than impressed.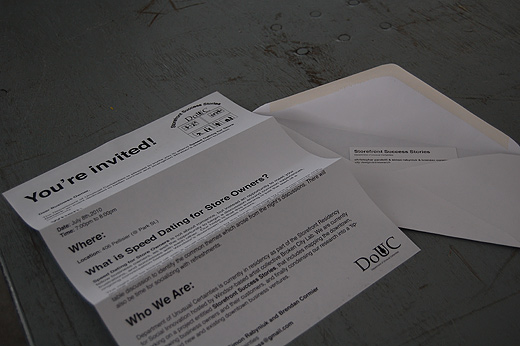 The DoUC Storefront Success Stories project made up these letters inviting business owners in the downtown BIA to a Speed Date event in 406 Pelissier on July 8th, 7pm.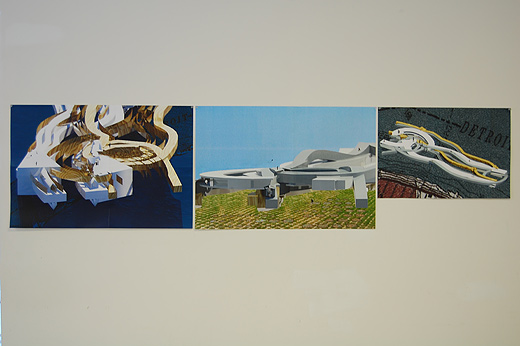 Thom Provost installed some prints of 3D plans he made for a Detroit River pedestrian walkway.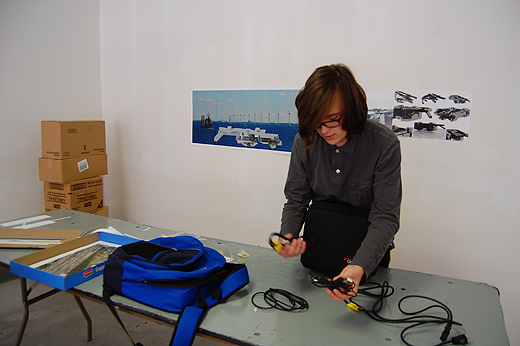 He also set up a projection of Google street view images of Windsor, Jackson Park in particular, that shows the city and park during the CUPE strike last summer.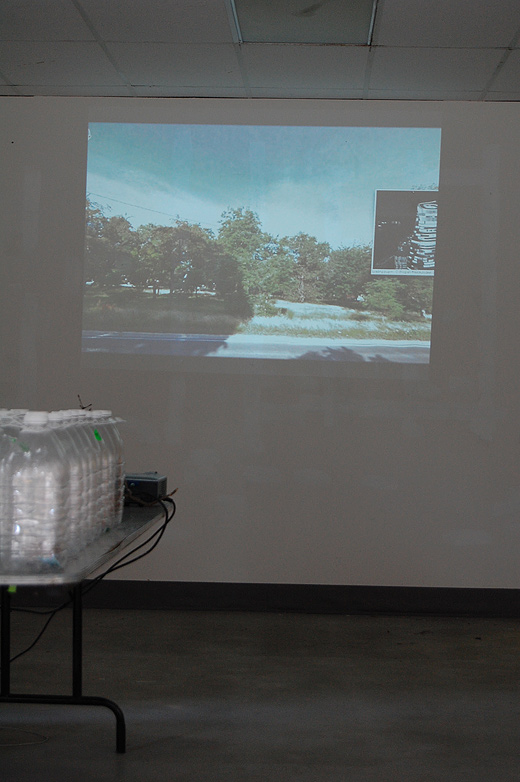 Jackson Park's grass is meadowy and quite lovely in this database of snapshots of a very memorable time in Windsor's history.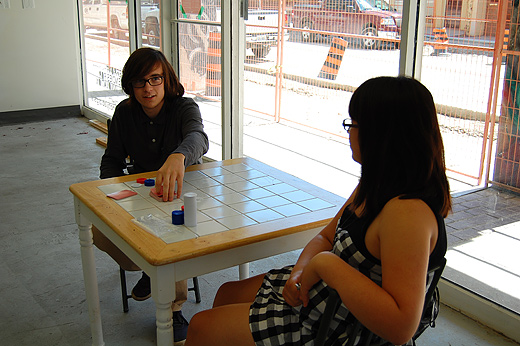 He also stopped to play some games of blackjack with his neighbour sharing the space in 406, Robin Fitzsimons.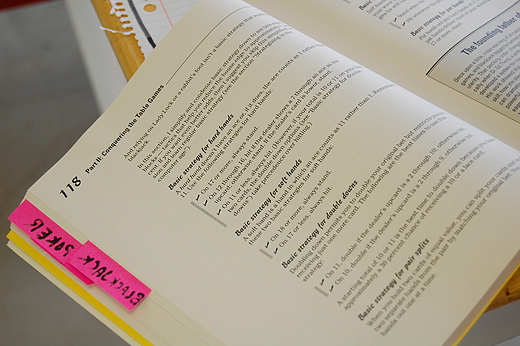 Robin spends most of her day reading and researching methods and tricks for certain games. The rest of the time is dedicated to practice playing them with volunteer partners. She also has made a couple trips down to the casino to check out the gambling situation. At this point, it seems like she will be focusing on either digital poker or blackjack as her game of choice for Friday.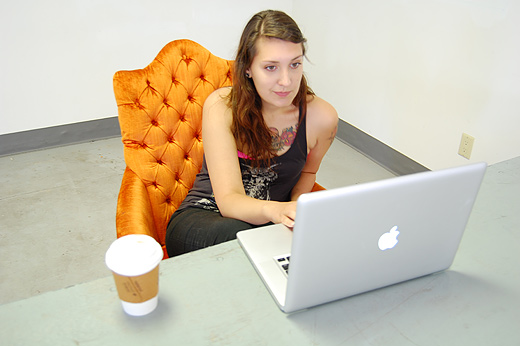 I spent a good portion of time getting the super huge post done from the weekend.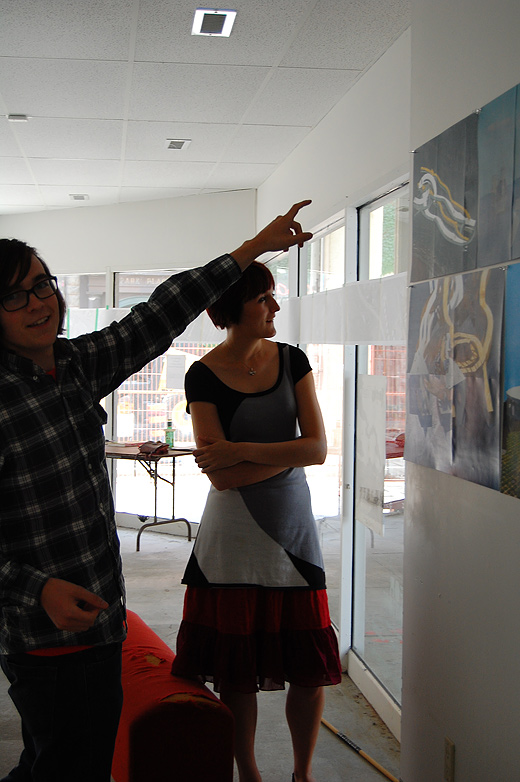 Later on, Thom explained his plans to Josh Kolm and Kate Hargreaves who stopped by to check out the space.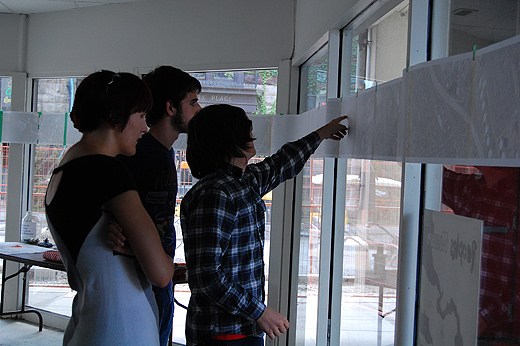 Thom is the winner of Phog's Philantropasta contest for his idea. This young man is studying architecture at University of Detroit Mercy and is just the type of active mind that Windsor should be trying its hardest to hold on to. Hopefully Thom will be able to find a job and work in Windsor if he so chooses, as his ideas are refreshing and innovative.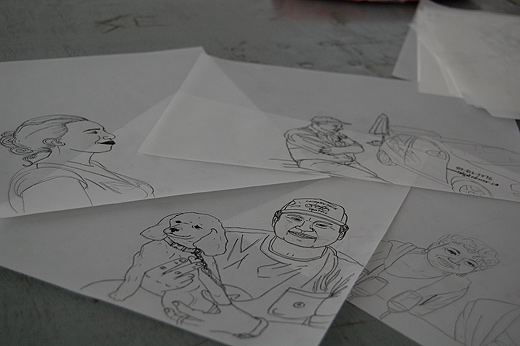 Lea was gracious enough to show me some of the drawings she's been making of people she has met in Windsor. These will be on display in 424 tonight at 7pm during her Garden Party, where she has not only invited the participants of SRSI and the community at large, but more importantly the lovely individuals that have spoken with her during her residency, all of whom have shaped her experience of Windsor.
This project is generously supported by the City of Windsor: Cultural Affairs Office, Arts Council Windsor & Region, Windsor Pride, and the Ontario Arts Council.