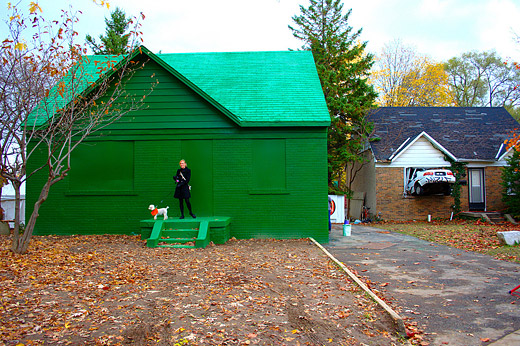 Organized by The Public Access Collective in collaboration with L.O.T. : Experiments in Urban Research (Collective), The Leona Drive Project took six vacant bungalows set for demolition by HYATT HOMES, a developer in Willowdale, Ontario, and turned them into temporary sites for art interventions.
The project is already over, it was up for just the last week of October, but it looks like it was a huge amount of fun, and obviously drew parallels to our own Indian Road. From their site, "While the curators anticipate several sub-themes emerging from the individual artists, the overall problematic for the exhibition is the remarkable shift from the suburbs of old to the suburbs of contemporary Canada, namely the neighborhoods and precincts of the multicultural, but nonetheless parsed state. As such, the project will interrogate what has been lost in terms of the older identities and utopias, domestic, regional and national, and the concomitant transformations around issues of gender, race, class and what was broadly proclaimed as the good life."
Late last spring, there was some discussion about putting together a proposal for The Leona Drive Project along with some other Windsor artists / thinkers, but we just couldn't pull our idea into the right context for the project. Our idea involved working in some capacity with the houses on Indian Road. That idea, along with some other recent discussions about the potentials for other installations to occur on a series of vacant lots or the like, might just lead to something doable. Really, there are so many places around the city that could be the centre of an excellent conversation, we need to start addressing them, so be on the look out, or help us track down some landlords (landlords other than the Ambassador Bridge).