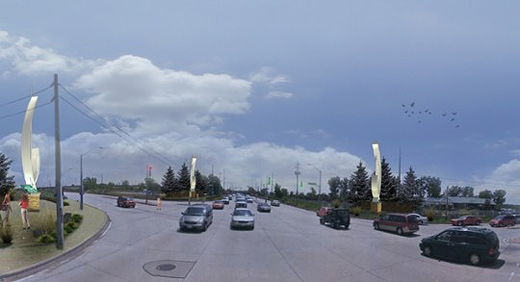 Physical civic improvements are an important step for Windsor. Our gateways, if you're unfamiliar with the city, are a bit lack-luster at present. Where gateways do exist, the markers are underdeveloped, poorly executed, and are the kind of "this could literally be anywhere" design strategy.
Why do gateways matter? Physically and visually defining space is crucial to understanding where you are, and if gateways are to be the entrance to a city, they need to clearly enunciate where you are, and one might argue that this should denote a certain specificity. Failing at gateways means failing to define a space appropriately and in turn continuing to fail at getting over the "non-place" hump.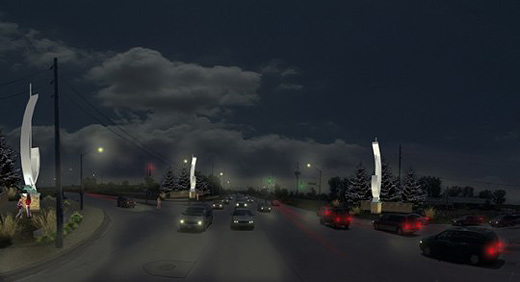 Windsor's latest gateway proposal continues in this lineage, although with a greater budget attached — $520,540 to be exact. As noted in the Windsor Star, these new gateway markers, pictured above, are to be something of "significance," something to announce you have "reached your destination" in the City of Windsor, and something "embracing." I read all those words as resolving to, "something you could find in absolutely any other North American city." Depending on your attitiude towards these markers, you can either read, "'Gateway markers' stir criticism over cost" or "Gateway Windsor markers to have 'embracing' feel," in the Windsor Star, both headlines feature the same story.
Above all though, it's not necessarily the cost, or the questionable aesthetic choices, or even the totally insensitive design rationale, but it's the blatant missed opportunity that is most crushing.
Windsor could have had a national or even international competition for the design and construction of these gateways — that is, a competition to artists and artist-led design teams, you know the ones we read about every single day on Akimbo. The jury could have been made up of community members, local artists and architects, and city planners. It could have started a real conversation about what a gateway means to our city, what it should do specifically for our city, how it could have truly defined that space, it could have possibly even been commissioned to a local artist or architect.
Indeed, these markers could have become a touchstone for how we can consider rethinking this city's infrastructure. It could have been the beginning of Windsor shaping our own story at both a local and national level. It could have been an opportunity to make a decision that considers these types of civic improvements not merely decoration, but absolutely essential to infrastructural design.
Instead, we get something from the international company NORR, which, to be fair, hasn't necessarily done anything overly offensive in their other work, but which ultimately hasn't really done us any favours with this design. However, it's not about NORR, it's about the city's lack of vision and understanding for how to make great places that makes this so frustrating. Whether this passes at council on Monday night looks potentially questionable, but even for the original allocation of $300,000, I'd like to think that we could have ended up with something a bit more appropriate, or dare I say, inspiring for this space.
On a closing note, that these gateways announce you entering Windsor's non-place par excellence (that is, the stretch of Walker Road featuring kilometeres of sprawling big box retail) is another issue entirely — 26,000 daily commuters aside, this is still one of the worst places in the city.