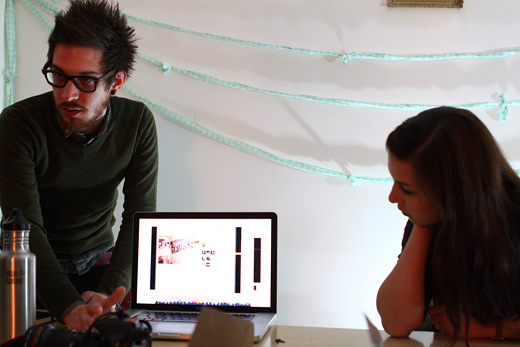 Our first Friday back was great. Unfortunately, Rosina couldn't make it, but everyone else was around the table for the first time in almost a month. We've learned some things about how we work together over the last two and a half years, and we're set to make more things happen this year than ever before.
There are some major production projects on our to-do list in 2011, but we're also going to be undertaking a large research-based project in the first half of the year. So, to try to keep track of all of this activity, we're going to be trying to shift more of our ongoing conversations onto our blog, likely filed under the Notes section. It's going to act as our collective sketchbook, messaging system, and basically catch-all. Having tried Google Wave last year around this time, Google Docs, and plain old email, we're hoping that this will keep things flowing back and forth between everyone at a much faster pace. Meeting all together for a two or three hours once a week makes it tough to get through much more than just figuring out what we should be doing.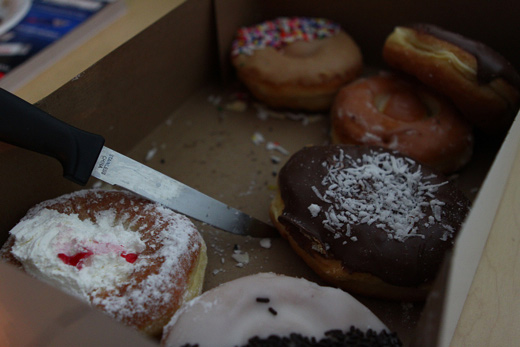 What made the entire night all that much better though was Josh bringing over a huge box of doughnuts. I think we need to make sure there's some shareable treats or beverages around the table every week.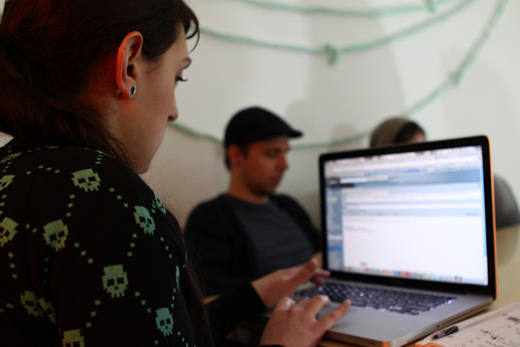 Michelle volunteered to take notes — something else we should probably be doing on a more ongoing basis. Too much is lost trying to remember the next morning what was supposed to be done.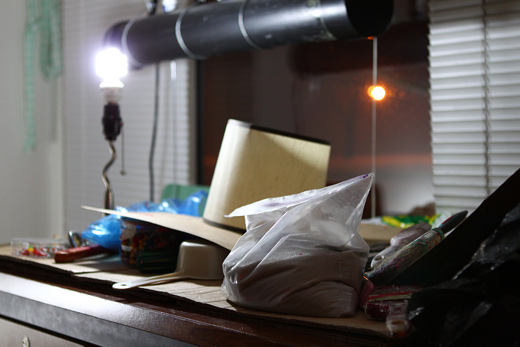 Our work table that desperately needs to be tidied. Soon. That big zip lock bag of retroreflective beads is going to come in handy for some other projects down the road, as we start to unfold all the possibilities for our CAFKA project.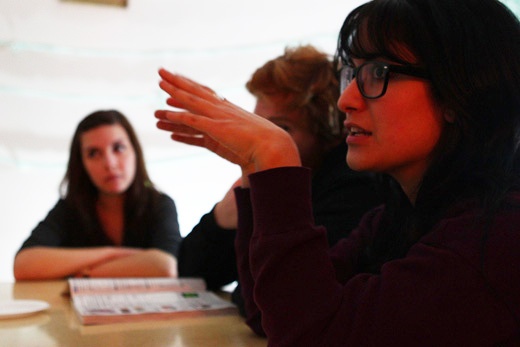 Josh, Hiba, and Kevin are taking the lead on the production aspect of the CAFKA project, sourcing materials, coming up with build plans, etc. I'll be continuing to work on this in parallel, though, I'm more than happy to hand over some of the more mathematically inclined aspects of this to them.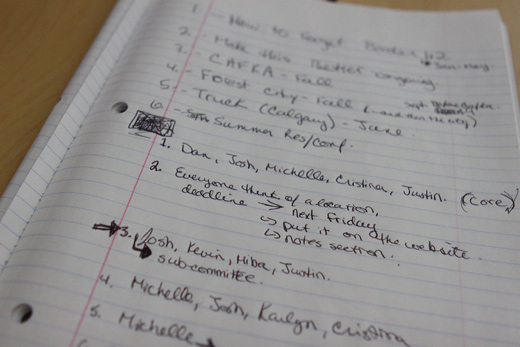 Other projects were also divided to better reflect our interests and capacities — basically, to make sure these things all get done and are a lot of fun to work on… How to Forget the Border Completely is going to be focused on by Danielle, Michelle, me, Josh, Cristina, and Rosina; Make This Better needs to be addressed by everyone as we plan our next installation sites; CAFKA will have all-hands-on-deck, but production led by Josh, Hiba, and Kevin; Forest City will be focused on by Michelle, Josh, Karlyn, and Cristina in the research phases, and we'll all be around the table for actual installation (if possible); Truck will be Michelle and I for sure, and possibly others depending on that pesky summer availability.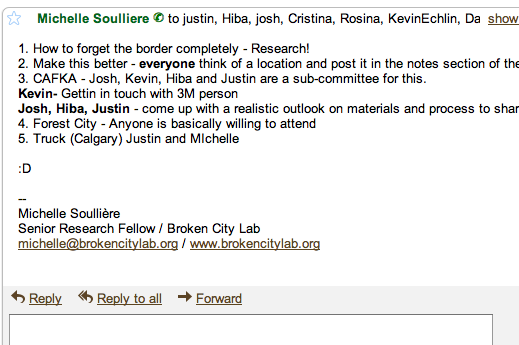 Condensed in email by Michelle — woo! Very helpful! I'm already excited to catch up again next week!
In the meantime, I have to make a post template for HFBC research with the OAC logo for everyone to use…