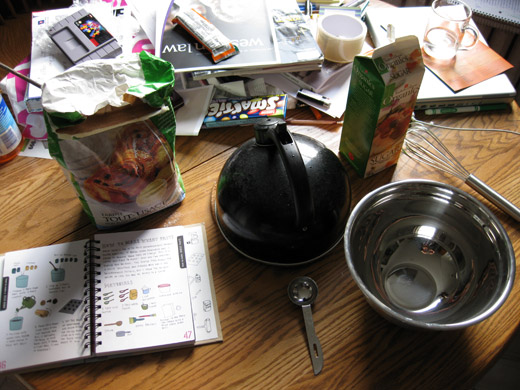 Danielle and I spent the better part of the afternoon a couple days ago going through wheatpaste recipes, ultimately going with the simplest. We had wanted to avoid having to use a hot plate to make it, and after 4 different recipes requiring varying amounts of heat, we were successful.
Flour.
Flour + cold water.
Whisking the mix and adding hot water.
Danielle takes over whisking, this first mix was too watery.
This was the first couple of test papers.
This was another recipe, heated on the stove, testing it on my desk.
In our search for tools with which we can apply the wheat paste, I also wondered if we could make our own. This would involve a water bottle, sponge, and small tube in the middle of the sponge.
Danielle uses her hot glue skills.
It was a delicate procedure, as everything is when it comes to hot glue.
The final recipe, the one that works, simply hot water and then flour until it's a good consistency… that good consistency is somewhere like a smoothie…
This is the second version of the wheat paste applicator, the problem with this particular bottle was that the cap was squishing the sponge too much.
More test papers on my desk… the latest recipe worked best.
A couple more test papers.
Test 1 outside.
Test 2 outside.
We'll demo the recipe and the applicator on Thursday.