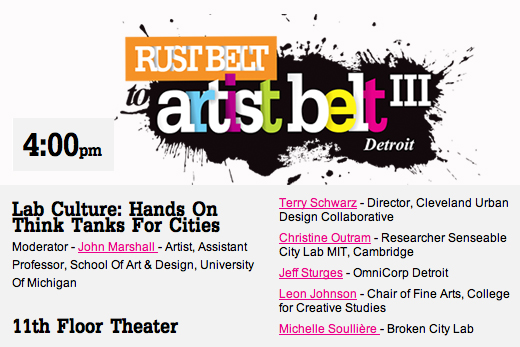 On Wednesday, April 6th I will be headed across the border to the College for Creative Studies, A. Alfred Taubman Centre for Design Education in Detroit for the Rust Belt to Artist Belt III conference to participate on a panel named Lab Culture: Hands on Think Tanks for Cities, with five other amazing individuals.
Conference participants will explore how economic and community development, entrepreneurialism, and land use in post-industrial Rust Belt cities are being shaped by creative individuals. Attendees will examine best practices for connecting creative practitioners with advanced manufacturers to establish a "Creative Supply Chain."
Check out the jam-packed schedule and links to panelist and moderator bios here. With over 50 speakers in two days, this is going to be AMAZING.
Hope to see you there!