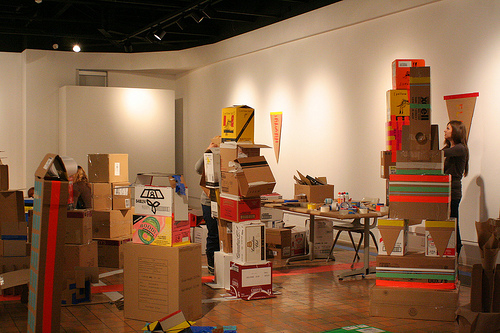 After a long day of classes and studying, a few friends of mine wandered into the Lebel gallery to let loose and make ridiculous things out of heaps of cardboard boxes. The creating of the 'box city' was open to anyone curious enough to take part. Of course the essentials (boxes, scissors, coloured tape, paint and brushes) were supplied and all that was required was a bit of imagination!
Box City was just one event of many that was scheduled as part of the 'Flash Gallery', which invites individuals to reclaim the gallery as an alternative space and redefine the uses of it.
To the far right is my friend Jessica Lukas, diligently working on her Godzilla box monster, hoping to crush my wobbly masterpiece below….
As soon  as I heard 'box city', I immediately had this song in mind, and kept it playing in my head as I constructed it.
Oftentimes I refer to the art students at Lebel as a closely knit community, and it would be a great idea for impromptu things like box city (and the ping pong and dodgeball matches yesterday!) to happen more often!  It was a relaxing exercise where anyone could toy with simple and familiar materials and make something fun together with friends and passersby.
Also, tomorrow I hear there's a pizza party?!