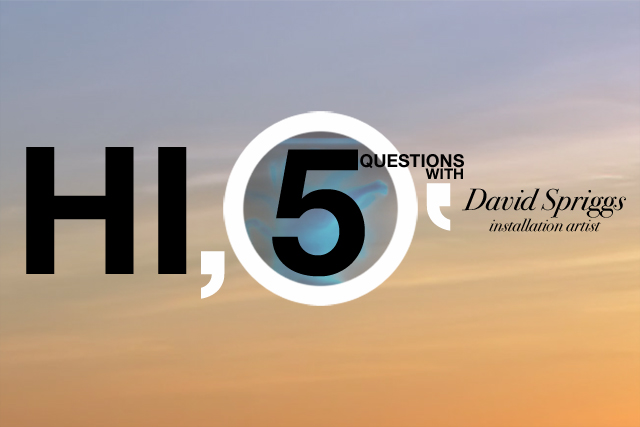 About the Hi, 5 Interview Series
Hi, 5 (5 Questions) is a web-only interview series which presents five questions to artists, activists, and creative thinkers alike. The project acts as an educational device which allows us to gain insight into the narratives that define successful individuals. We are interested in the motivations behind ambitious ideas and how these individuals chart personal change in relation to their surroundings.
About David Spriggs
David Spriggs explores the representation and strategies of power, the symbolic meanings of colour, and the thresholds of form and perception. His installation based work lies in a space between the 2 and 3 dimensions. In many installations he uses a technique he developed in 1999 using multiple painted layered images in space to create unique ephemeral like forms. The subjects depicted in his work relate to the breakdown and recreation of form and volume – as seen through his interest in cyclones, explosions, and forces.
David Spriggs is currently based in Montreal. He was born in 1978 in Manchester, England, and immigrated to Canada in 1992. He received his Master of Fine Arts from Concordia University, Montreal, and his Bachelor of Fine Arts from Emily Carr University in Vancouver.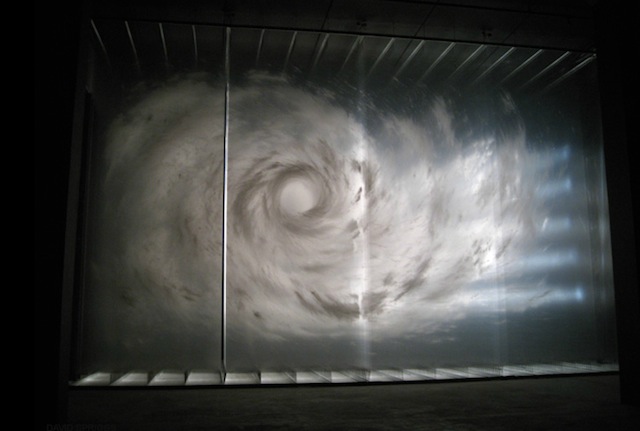 David Spriggs
February 19/2012
If you had to describe your current self to a 16-year-old you, what would you say?
I am a contemporary artist working primarily on installation based work.
Could you describe an evolution in your work or way of thinking?
I have been through many different styles in my life as an artist.  I tried everything to find out what works and what doesn't.  My thinking has lead from concept to another.  12 years ago I started thinking about transparency, then about 8 years ago concepts around the immaterial and perception, and more recently on concepts of power and the symbolic notions of colour.
Are there any people who have been instrumental in the development of your way of thinking and viewing the world?
The theories of the Futurists and Cubists have been interesting to me.  I have been perhaps most inspired by writers such as Baudrillard, Virilio, and Foucault.
How do your political beliefs inform or fuel your work as an artist?
I would say that it is not so much political beliefs as much as being informed about the world, the general news, and advancements in science and theory.
What do you feel a city should be or do for its inhabitants?
A city is a changing organism that keeps it's community alive.  I would like to think culturally that a city provides its citizens a network in which the arts can flourish.