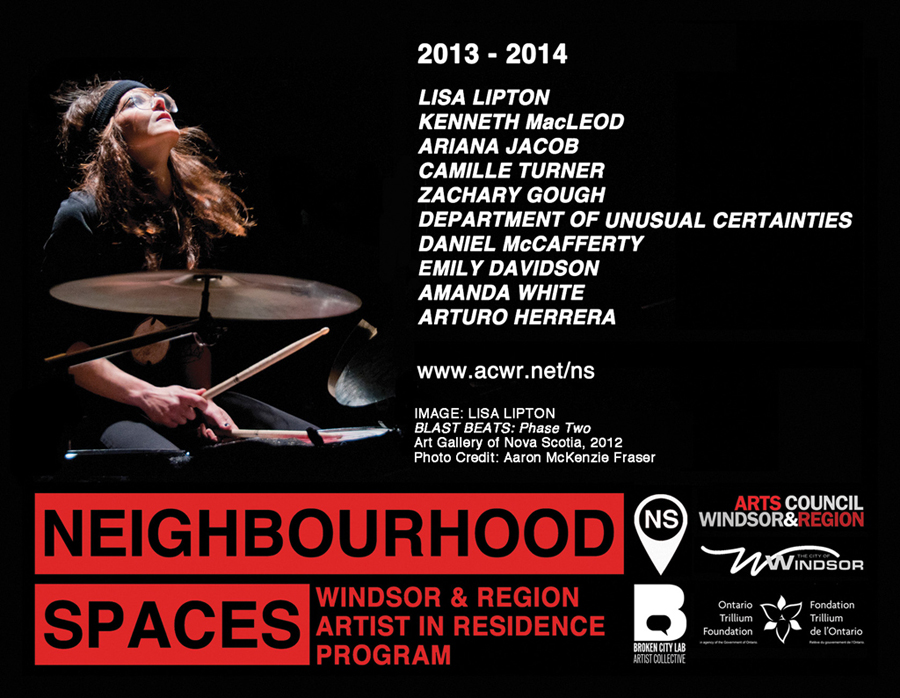 Meet, Greet, & Eat with local and visiting Neighbourhood Spaces (NS) Artists-in-Residence
Friday, August 9th from 7 – 9PM, as part of Windsor's Downtown Culture Crawl @ Civic Space (411 Pelissier Street, Windsor, Ontario)
You are invited to meet five of the ten artists selected for Neighbourhood Spaces (NS), Windsor & Region's new socially-engaged artist residency program. Supported by the Ontario Trillium Foundation (OTF), NS is a partnership between Broken City Lab (BCL), Arts Council Windsor & Region (ACWR) and the City of Windsor. Stop in Broken City Lab's CIVIC SPACE, enjoy a bite to eat and learn about the artists, their residency projects and the NS Program.
NS Artists in Attendance:
Arturo Herrera (Windsor, ON) @ Migrant Workers Community Program, Leamington
Ariana Jacob (Portland, OR) @ Unemployed Help Center & Tecumseh Mall (select dates)
Lisa Lipton (Halifax, NS) @ Atkinson Skate Park
Kenneth MacLeod (Windsor, ON) @ Sandwich Teen Action Group & Windsor Youth Centre
Dan McCafferty (Windsor, ON) @ Ford City Neighbourhood
Food and light refreshments will be provided and Arturo Herrera will be making his famous handmade tortillas.
---
To learn more about Neighbourhood Spaces (NS), the artists and their projects, visit: www.acwr.net/ns or www.brokencitylab.org/ns Follow the program on the NS Blog & like us on Facebook, follow us on Twitter.
Contact:
Alana Bartol, Program Coordinator
Neighbourhood Spaces: Windsor & Region Artist in Residence Program
o. 519-252-2787

A partnership between "The Collaborative" : Arts Council – Windsor & Region, Broken City Lab and The City of Windsor. This program is made possible through the generous financial support from the Ontario Trillium Foundation.