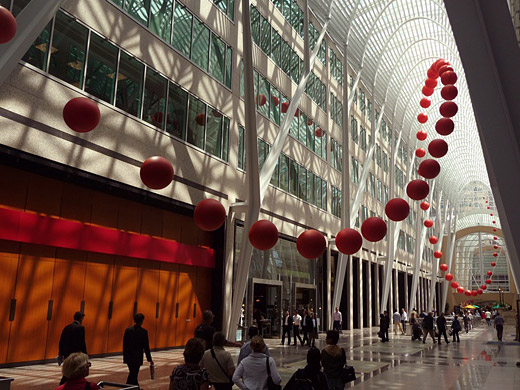 David Rokeby is a Canadian artist who worked for years in new media, creating interactive installations, and exhibiting them around the world (including here in Windsor most recently at the 2008 Media City -curated AGW exhibition). I had the opportunity to work with him on that 2008 show, Plotting Against Time, and he is one of the nicest and most brilliant people I've ever met.
More recently, his work has turned to large-scale installations.  2007's Cloud played with perception through small sculptural elements rotating under a computer's control.
This year's long wave is a site specific installation that was commissioned by Luminato, Toronto Festival of Arts + Creativity and was on view at the Allen Lambert Galleria, Brookfield Place, Toronto, June 5 – 20, 2009. It is a 380 foot long, 60 foot high sculpture tracing a helix through the entire length of the galleria.
"long wave" is a materialization of a radio wave, a normally invisible, but constantly present feature of environment. It represents the length of a radio wave in the short-wave radio band, in between the sizes of AM and FM radio waves. In our contemporary wireless environment, populated by tiny centimeter long wifi transmissions, these radio waves are really the dinosaurs of our communications era.
I'm getting more and more interested in larger-scale installations like this that at least in part respond to the architecture in which they are situated. With so many vacant building across this city, why worry about a sculpture garden when we could have an "installations in abandoned factories" tour?