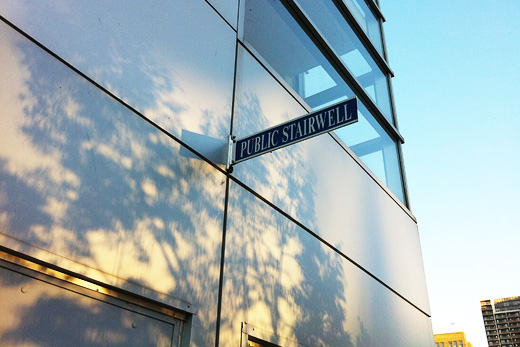 We've been lucky over the last week or so with some surprisingly agreeable weather. The had humidity lifted and with it, the temperature scaled back considerably. So, it's been pretty much the best time all summer to do some exploring on foot (and sometimes on bicycle) at a pace that really allows for a different kind of engagement with space.
Now armed with an iPhone 4 for an upcoming project, it's easier than ever to take pictures on a casual exploration. Something like a dérive, though admittedly a little more aimed at looking for some new potential project spaces than a completely free drift, last night was a perfect time to play with thinking about a variety of spaces, slowly.
These slow explorations really give the time to notice and attempt to unfold the curiosities all around the city. A sign like the one above, "PUBLIC STAIRWELL," notifies passersby that this space is publicly accessible and annotates something unseen, behind the door. I wonder what else we might be able to annotate with the same authority as this sign that could be suggested as being both public and understood as normally hidden (at least in terms of its use by a public).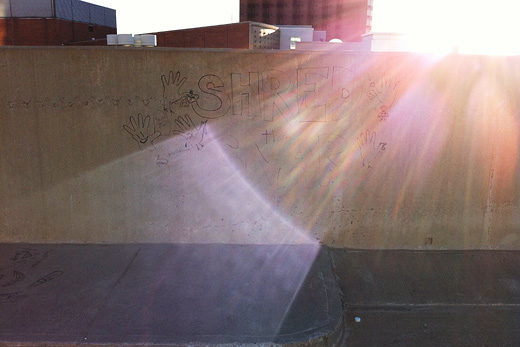 Night's like last night continue to instill a sense of hope for this city — people are out, people are downtown, there are moments when this place looks a lot less broken. In that spirit, I started to wonder about the kinds of spaces that people wouldn't normally look at as being "broken" in any sense of the word. Sure, there are at least a couple parking garages that have seen better days, but what about the one at the Canderel building?  I had never been through it, so I walked up to the stairs to the top floor and saw this bit of annotation.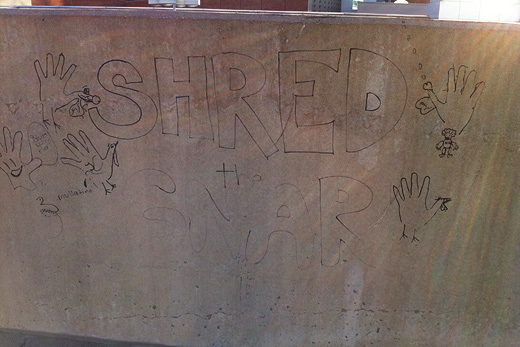 I presume this to be some kind of skateboarding reference, seeing as that space would be rather perfect for just that. It's boxed in, you can't see the street on either side, and thus no one could see you from the street. There are cameras, but I'm not sure whose watching. I like the turkey hand the best.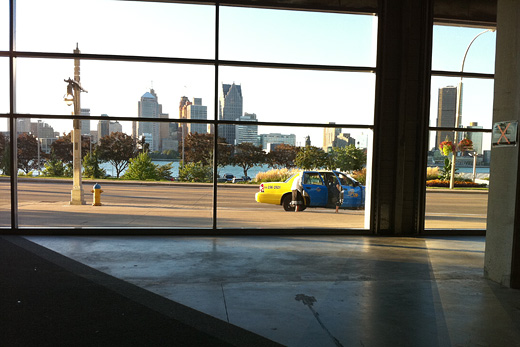 Back on the ground floor, a shot from inside that unbelievably huge space in the Canderel building. The Investors Group is going to take it over in the next couple of years(?), but in the meantime, there's just a long diagonal carpet leading you from the bank to the Keg. It's a totally strange place, considering this view and its vast emptiness.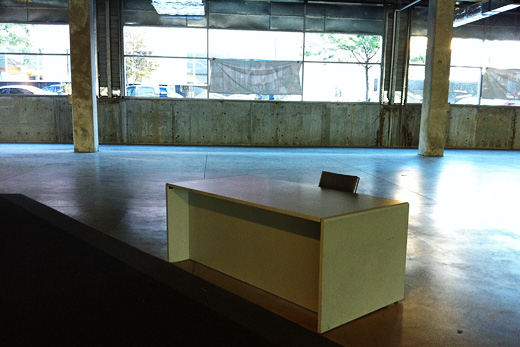 And then there's this — that desk that is apparently sometimes occupied. I sat there for a while, it made me want to just set up a work station there. Thinking about both Andrea Carvalho's and Sara French/Norman's contribution to SRSI, it would just seem to be a lovely thing to work here until someone said no.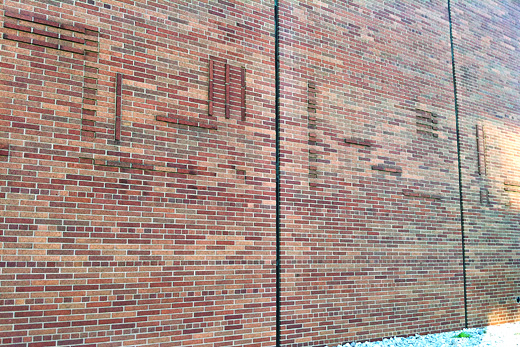 Out on the street, wondering what this extruded brick is about — someone knows, right?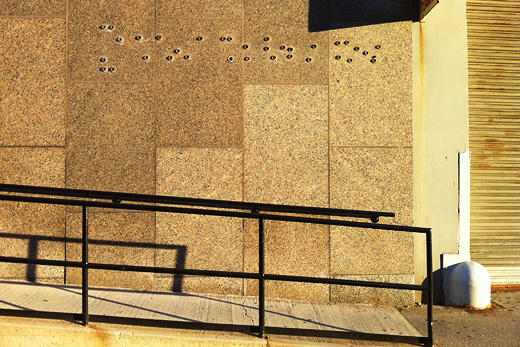 And across the street, more architectural braille. Leftovers from some sign that offer a potential to install something else there — those are holes with threads.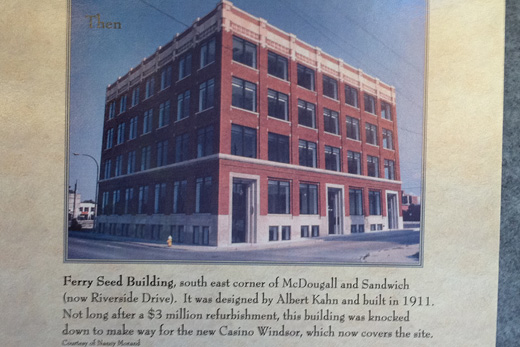 Visible at the outdoor information area at Windsor's Community Museum (the Francois Baby house): a picture of an incredible Albert Kahn building that was torn down for Casino Windsor (now Caesars Windsor). It's strange how there's a sense of defeat and sadness that reads so apparently from this image, which is at a city-owned space. Almost as if there's a real "we only realized once it was too late" sensibility.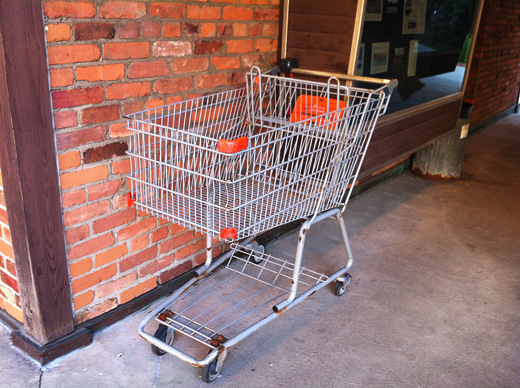 And then there's this shopping cart also drifting. There was someone sweeping up around this pavilion , though I imagine this remains there. Why don't we write a story about this shopping cart and put a plaque over it?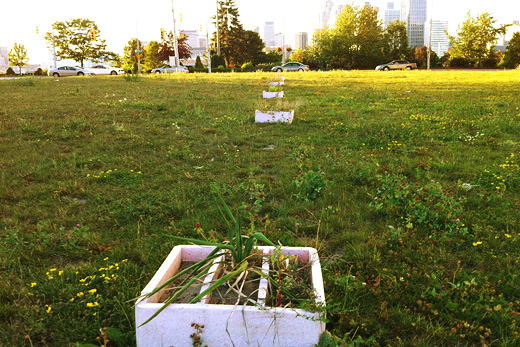 And that empty lot on the east side of the AGW — Andrea and Simon's planters are still there. This is amazing, because they've even begun to cut the grass around these.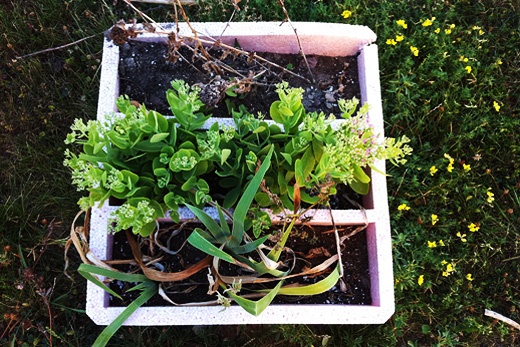 Some planters are doing considerably better than others.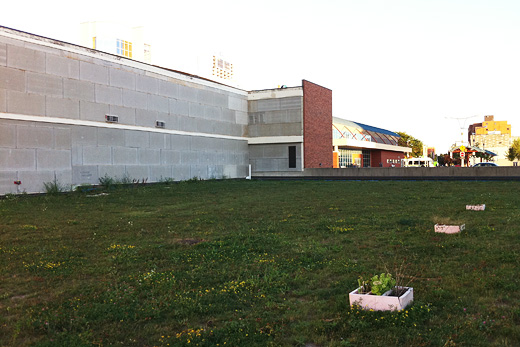 I'm also beginning to wonder what else to do with this space. It's location is unbelievably great and it's just a big vacant lot with a big blank wall… hmmm….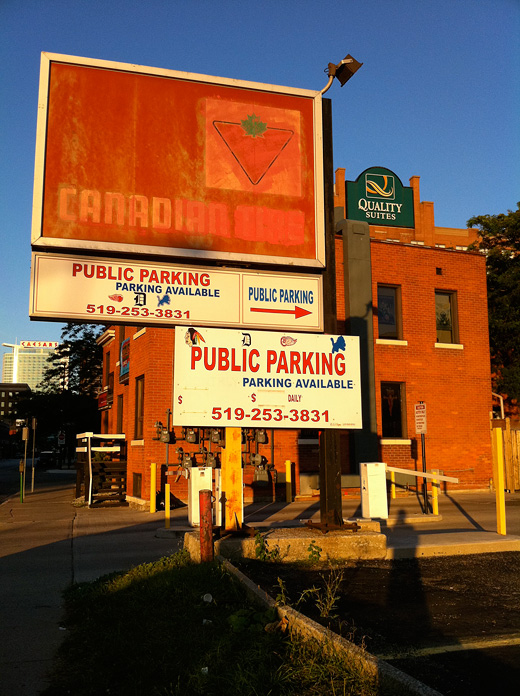 Next to the bus terminal, old signs make me wonder about what remainders we'll leave for ourselves 10 or 15 years down the road.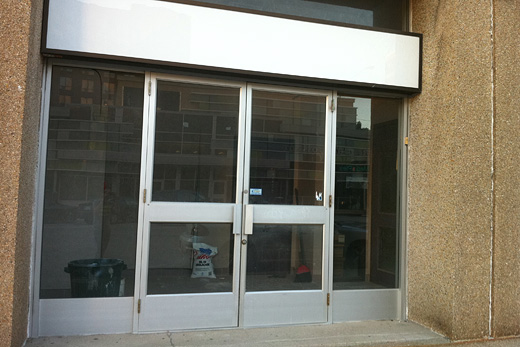 And the vacant storefronts and offices across from the recently renovated St. Clair Journalism building. All those blank sign spaces are calling out for some help.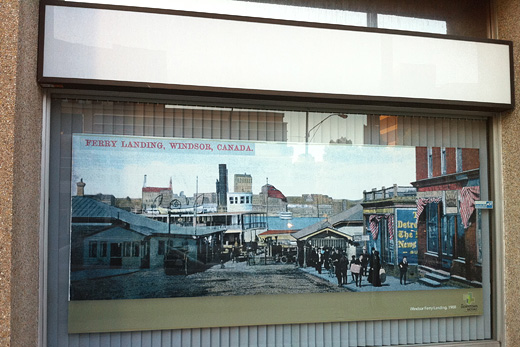 The Downtown Windsor BIA put up this series of posters a little while back — they kind of feel a bit depressing in the same way as the little picture and caption from the Community Museum (above). This poster seems to say to me, "we used to have a cross-border ferry and a vibrant downtown, and all we have now is this poster."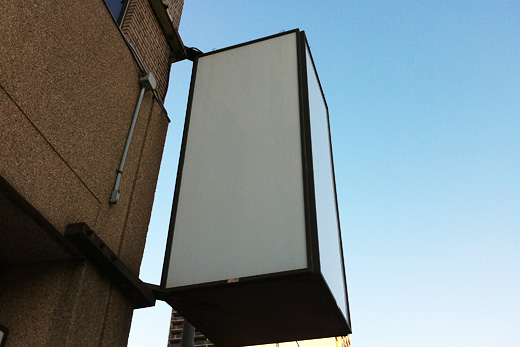 And finally, one more really, really large sign with four (possibly) illuminated faces. I think we need to put together a project proposal for this building and try to get access to those light-sign-boxes… could be a very fun project!