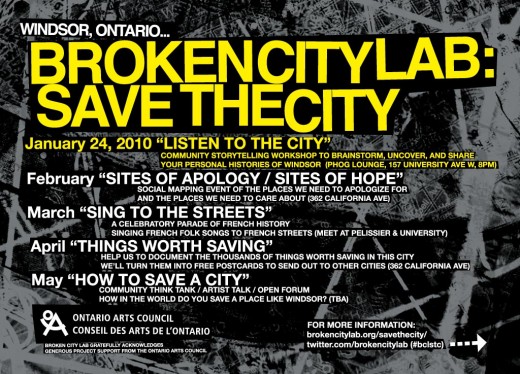 The details: Sunday, January 24, 2010 (8pm) at Phog Lounge (157 University Ave W, Windsor)
As part of the Broken City Lab: Save the City project, Broken City Lab researchers will facilitate a community workshop to brainstorm, uncover, and share personal histories of Windsor, inviting a range of community members to participate in the process. The workshop will begin with a discussion about the importance in personal histories alongside official histories of a city, and then lead to the opportunity for community participants to share their own stories about Windsor.
Throughout this part of workshop, we are going to help you to record one another's stories on portable MP3 audio recorders and encourage the retelling of stories throughout the workshop. After the workshop, the recorded audio stories will be uploaded to the Broken City Lab website and offered for streaming and downloading. As well, a copy of the edited collection of the stories will be donated to the Windsor Archives.
We think that the best way to start understanding this city is to hear the stories from the people who live here.
With that in mind, we're going to ask you two questions about the city:
What brought you here? and Why are you still here?
See you on the 24th!!!!
Broken City Lab: Save the City is generously supported by the Ontario Arts Council.