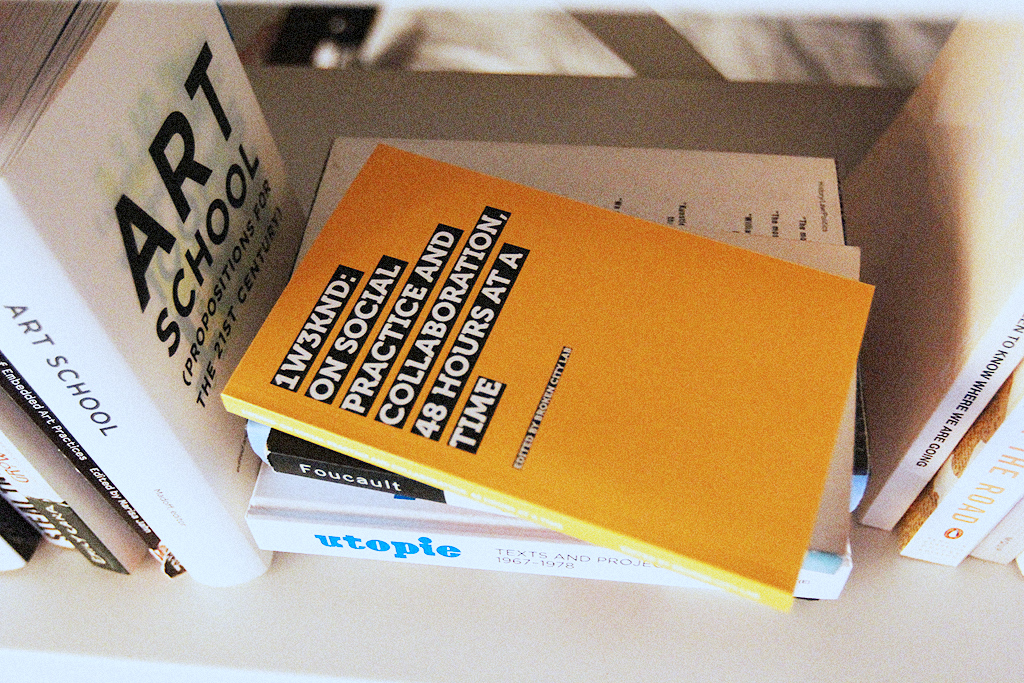 Late last year, we started hosting a series of weekend residencies at CIVIC Space. They were designed to bring together two people (and sometimes more) to write about socially-engaged practices. We wanted to provide a platform, or an excuse, or at least a quiet space to spend a bit of focused time writing. We wanted to do this because we were curious about the gap in writing from emerging practitioners, and that curiosity was driven as much out of our desire to read more from our peers as our realization that we have done very little writing on our own.
So, we posted a call for submissions on our website under the title of 1W3KND.
1W3KND stood for One Weekend, Three Thousand Words, No Distractions. It would be a brief, yet focused two days, just long enough to pull away from everyday life, but not so long that the itch to overly-polish any of the writing would arise. It would ideally put people into a dialogue, maybe even with a stranger, to try to tease out new entry-points into likely familiar conversations and capture an urgency around itself. It would concentrate this activity in a specific place without necessarily insisting on a response to it.
Between November 2012 and February 2013, we were happy to host the following artists, writers, curators, designers, thinkers, and scholars:
Penelope Smart & Erin MacMillan, Irene Chin & Megan Marin, Jason Deary & Mary Tremonte, Zoe Chan & Sarah Febbraro, Mike DiRisio & Nathan Stevens, Amber Ginsburg & Siobhan Rigg, VSVSVS & Julian Majewski, Jacqui Arntfield & Emily DiCarlo, Nathan Swartzendruber & Mike Fleisch, and Allison Rowe & Rhiannon Vogl
We compiled what they wrote into a book. It's available now on Blurb for just $10.
The residency as an experiment, as a site of production, or as simply a retreat, spurred writing that reflects a diversity of approaches towards articulating the concerns, ethics, aims, and ideals of socially-engaged practices. Largely written by emerging practitioners and minimally edited, this is not necessarily a cogent collection of essays — in fact, such an expectation would arguably be missing the point. This book captures an energy and urgency around a complicated set of ideas still unfolding in relation to a world rapidly shifting around them. To have the opportunity to collect the texts, at the early stages of so many of the contributors' practices is a gift and hopefully a tool for further reflection and dialogue across geographies, politics, and practices.
If we had more time at Civic Space, we'd probably do this again. Maybe someone else can pick up where we left off.