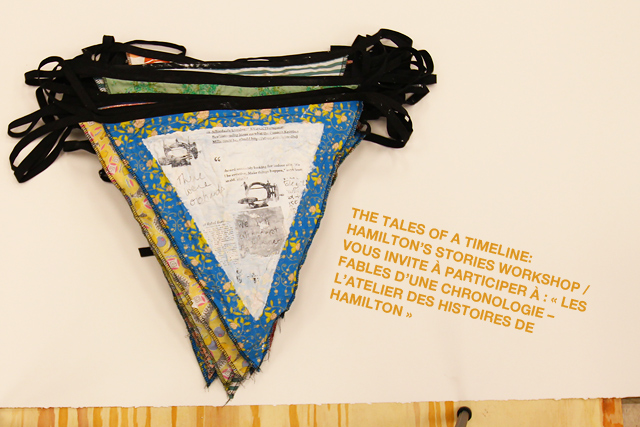 Just  little reminder if you're in the Hamilton area…
Vous invite à participer à : « Les Fables d'une Chronologie – L'atelier des Histoires de Hamilton »
Développé de la recherche amassée des archives et de questionnaires présentés aux habitants de Hamilton, l'atelier Les Fables d'une Chronologie engagera ces participants à créer collectivement une histoire vaste du passé, présent et future en pensant aux statuts économique, industriel, social, culturel et politique de cette ville.  Cette histoire fera partie de la publication pour Deux Contes d'une Ville, qui sera disponible à la fin de l'exposition.
L'atelier prendra place le Vendredi 9 mars 2012, à 3:30pm, dans la cuisine communautaire, au Marché Fermier d'Hamilton (35 boul. York, Hamilton). L'ouverture officielle de l'exposition aura lieu plus tard le même soir de 6:30 à 8:00pm à Hamilton Artists Inc. (155 rue James N. Hamilton).
Envoyez votre réservation à irene@hamiltonartistsinc.on.ca pour cet atelier.
The Tales of a Timeline: Hamilton's Stories Workshop
Drawing from a range of archival research and post-it note surveys with residents of Hamilton, The Tales of a Timeline workshop will ask participants to collectively write a sprawling story of Hamilton's past, present, and future through economic, industrial, social, cultural, and political lenses. This story will then be featured in the forthcoming publication as part of the Two Tales of a City project.
Join us for the workshop starting at 3:30pm at the Community Kitchen of the Hamilton Farmer's Market (35 York Boulevard, Hamilton) on Friday, March 9th, 2012.   RSVP to irene@hamiltonartistsinc.on.ca for the workshop.
Join us for the official opening of Two Tales of a City, later on that evening, from 6:30-8pm at Hamilton Artists Inc. (155 James St. N., Hamilton).